The Justice M B Shah Commission report on illegal mining in Goa is out. This report led to cancellation of all the 93 mining leases in Goa mentioned in report as "factually incorrect" in many several aspects by the apex body of state mining exporters.
The Union Ministry of Environment and Forest (MoEF) has suspended the environment clearances (EC)  licenses of 93 mining leases in Goa on recommendation of Shah Commission Report.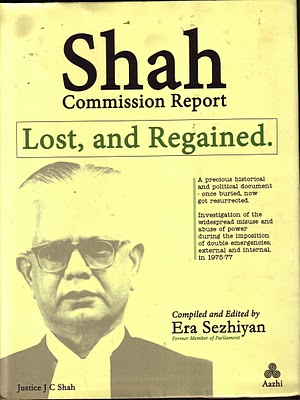 "The commission did not hear the Association despite several requests made to it, time and again. We had requested for a personal hearing to interact and clarify possible factual and legal aspects relevant to the industry in the state of Goa but we were not awarded the opportunity of a personal hearing," the letter reads.
As per Shah Commission report, it  is  stated  in  the  said  Notification  that  there  are reports that mining, raising, transportation and exporting of iron  ore  and  manganese  ore  illegally  or  without  lawful authority  in  the  various  States  are  being  done  in  one  or more of the following forms, namely :–
(a)  mining without a license;
(b)  mining outside the lease area;
(c)  undertaking  mining  in  a  lease  area  without taking  approval  of  the  concerned  State Government for transfer of concession;
(d)  raising of minerals without lawful authority;
(e)  raising  of  minerals  without  paying  royalty  in accordance with the quantities and grade;
(f)  mining in contravention of a mining plan;
(g)  transportation  of  raised  mineral  without  lawful authority;
(h)  mining  and  transportation  of  raised  mineral  in contravention  of  applicable  Central  and  State Acts and rules thereunder;
(i)  conducting  of  multiple  trade  transactions  to obfuscate  the  origin  and  source  of  minerals  in order to facilitate their disposal;
(j)  tampering  with  land  records  and  obliteration  of inter–State  boundaries  with  a  view  to  conceal mining outside lease areas;
(k)  forging or misusing  valid  transportation  permits and  using  forged  transport  permits  and  other documents  to  raise,  transport,  trade  and  export minerals;
Shah Commission Report on Illegal Mining can be downloaded from the site of Goa Chambers of Commerce & Industry website.
Here are the links for downloading the report:
(Right click on the link and select 'Save As' option)
 View Shah Commission Report on Illegal Mining in Goa Online
Shah Commission Report on Illegal Mining in Goa – Part I
Shah Commission Report on Illegal Mining in Goa – Part II
Shah Commission Report on Illegal Mining in Goa – Action Taken Report