Goan Food including Goan Fish Curry Rice in Panaji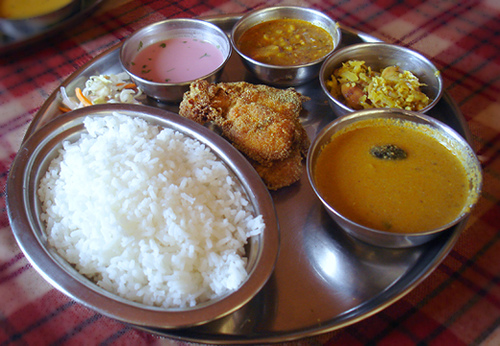 Mum's Kitchen
Situated at Campal, on the road to Miramar in Panaji, this restaurant is quite famous with the local residents and tourists for its delicious and authentic Goan food.
Jasima
Located near the 'Junta House' just off the 18th June road. The food is reasonably priced with typical local assence.
Corina Restaurant and Bar
A plush and cosy Goan Catholic eatery below the New Patto bridge, on your left as you enter Panaji. They serve a superb Goan Fish Curry Thali that comes with a delicious fish curry, rice, a vegetable, a side dish of shellfish, chapatti, papad and salad. You can ask for an extra side dish of Mackerel Recheado
Ritz Classic at 18th June Road, Panaji, Goa
Arguably, this is the best place in Panaji for an authentic, homely Goan Fish Curry Rice, which comes with lots of grated coconut and coconut milk in the curry, with the fish cooked to perfection. Everybody goes for their Fish Thali and the place can be packed during lunch time.
Anandashram in Panjim, near GPO.
Viva Panjim, Fontainhas, Panjim
Goan Food including Goan Fish Curry Rice in North Goa
Souza' Lobo – at Calangute Beach.
In existence for the past 65 years, this restaurant has earned its reputation on good food, good service & location.
Mirabai's Goan Village – at Calangute/Baga Road
Recently, this restaurant claims to offer only genuine goan food. Located on the main road, it has a simple ambience and is known to be quite popular.
Sparrows Nest – at Calangute Main Road
Located near Petrol Station in Calangute, simple restaurant serves a quality Goan fish curry and rice dish, very popular with the locals and the tourists. Its prices are also very reasonable compared to others in the vicinity.
St. Anthony's Bar & Restaurant – at Baga Beach
One of the oldest restaurants, it has a simple shack like ambience and some good food with friendly staff. Quite popular with tourists and well worth a visit.
Florentine – at Saligao
Located in Saligao, a 10-minute drive from Calangute, this restaurant has been in existence for quite some time. Earlier known for its great food, its service has deteriorated, but still serves some good Goan dishes and chicken cafreal.
Palms N Sands at Candolim
This restaurant is in Candolim, right on the beach with a 3 tier sit out. Serves good seafood and has great outdoor view of the sea.
Goan Food including Goan Fish Curry Rice in South Goa
Martins Corner – Betalbatim
Located close to the Betalbatim beach, this restaurant is known for its genuine goan food. A family run business, its service is good by goan standards. Best to visit during weekdays, as Saturdays & Sundays are awfully crowded. Know to be favourate hang out place of Sachin Tentulkar when he's in Goa. http://www.martinscornergoa.com
Lounginohs – Margao
Situated in the heart of Margao city near to the Municipal Buildings, this restaurant has the ambience of a pub and serves excellent Goan, Chinese and continental dishes. Their cocktails are well recommended.
Coco Loco
At Agassaim, on the way between Panaji and Margao, this restaurant is situated in the midst of shady palm groove. Good for seafood and Goan food
Kentuckee
On the Colva Beach in South Goa. This restaurant serves good seafood and also has a multicuisine menu. Open till late night, its sea front location is ideal for a night out with good food.
Zeebop Restaurant
Right on Utorda Beach, opposite Kenilworth Beach Resort. This outdoor restaurant has a great setting. While you wait for you food, you can relax on one of the cane chairs or a hammock sipping a cool drink. Serves exotic goan food.
Banjara
Located in Margao, this restaurant takes pride to call itself the finest Indian restaurant in Goa. Worth one visit if you are in Margao.
Fiplees Restaurant
On Benaulim beach, this restaurant is a one-stop hot spot serving multicuisine meals. They also conduct a lot of theme parties and Buffet Dinner.
Tilve Lunch Home at Mahalaxmi temple, Bandora – Ponda Goa.
Lloyd's at Candolim